Once QGIS is installed, you have to define a user Coordinate Reference System (CRS) using the definition in the panel opposite. This WKT string has been copied from a GEO-tif output of PyTROLL/Satpy.
Open QGIS and click over the New Empty Project panel to select it (if you don't. QGIS won't be able to save your new Bracknell CRS definition).
In the main Menu Bar, select 'Settings/Custom Projections...', click the plus sign at upper right and rename new CRS in the 'filename field' to Bracknell.
You must now copy the WKT string. There are several ways to do this:
•
Drag the mouse over the text opposite and press Control-C to copy it
•
You can copy it from this text file.
•
You can also copy/paste it from page 2 of Ernst Lobsiger's PDF document "The Bracknell Chart Revisited" which you will find in the

overlays/DOC

folder.
Make sure that the Format selector shows WKT then click over the lower Parameters window and paste the definition string there by pressing control-V. Now press Validate. If the WKT is accepted as valid, click OK to save the Bracknell definition. QGIS is now ready for use in digitising Bracknell charts and you do not have to repeat the above procedure again.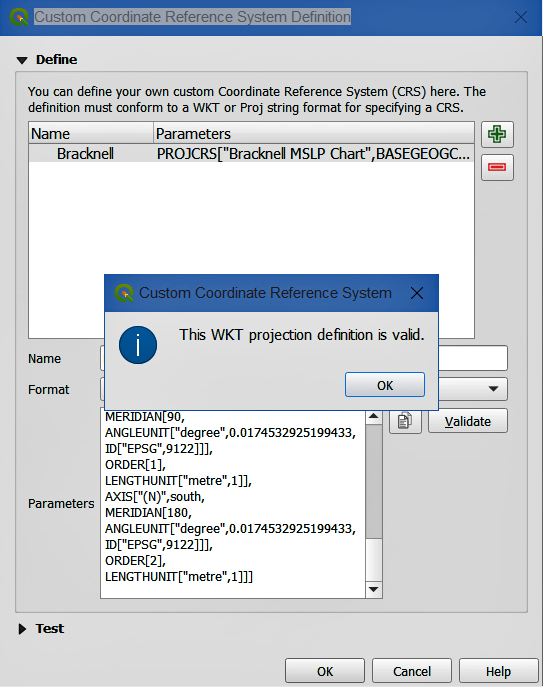 PROJCRS["Bracknell MSLP Chart",
BASEGEOGCRS["unknown",
DATUM["Unknown_based_on_WGS84_ellipsoid",
ELLIPSOID["WGS 84",6378137,298.257223563,
LENGTHUNIT["metre",1],
ID["EPSG",7030]]],
PRIMEM["Greenwich",0,
ANGLEUNIT["degree",0.0174532925199433,
ID["EPSG",9122]]]],
CONVERSION["Polar Stereographic (variant A)",
METHOD["Polar Stereographic (variant A)",
ID["EPSG",9810]],
PARAMETER["Latitude of natural origin",90,
ANGLEUNIT["degree",0.0174532925199433],
ID["EPSG",8801]],
PARAMETER["Longitude of natural origin",-35,
ANGLEUNIT["degree",0.0174532925199433],
ID["EPSG",8802]],
PARAMETER["Scale factor at natural origin",1,
SCALEUNIT["unity",1],
ID["EPSG",8805]],
PARAMETER["False easting",0,
LENGTHUNIT["metre",1],
ID["EPSG",8806]],
PARAMETER["False northing",0,
LENGTHUNIT["metre",1],
ID["EPSG",8807]]],
CS[Cartesian,2],
AXIS["(E)",south,
MERIDIAN[90,
ANGLEUNIT["degree",0.0174532925199433,
ID["EPSG",9122]]],
ORDER[1],
LENGTHUNIT["metre",1]],
AXIS["(N)",south,
MERIDIAN[180,
ANGLEUNIT["degree",0.0174532925199433,
ID["EPSG",9122]]],
ORDER[2],
LENGTHUNIT["metre",1]]]