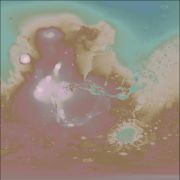 Mars MOLA Mapper uses the digital elevation data acquired by the Laser Altimeter flown aboard the Mars Global Surveyor (MGS) spacecraft. Mars MOLA Mapper uses the MEG064 data set which consists of 4 tiles providing 64 pixels per degree resolution over the entire surface of the Red Planet.
You can download a copy of these 126 MB file from:
http://pds-geosciences.wustl.edu/missions/mgs/megdr.html
Note: You only require the four 'Topography' files of type '.img'.
Full Mars maps may be manipulated using David Taylor's GroundMap software to create globes of the planet from any aspect, as illustrated below. You can select from a number of colour schemes, including the multicoloured 'MOLA' style.
Click on any of the images of Mars below to view it at full resolution.